About Us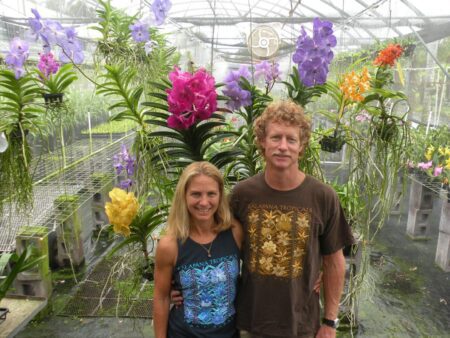 Kalapana Tropicals Inc. is a family owned and operated orchid farm located south east of Hilo on the Big Island of Hawaii. Owners John & Mindi Clark started Kalapana Tropicals in 1987 as a dendrobium orchid cut flower farm in the area of Kalapana and then expanded in to growing orchids for potted plants in 1993 with a second nursery in the area of Kurtistown 20 miles away. We currently have 19 greenhouses totaling approximately 80,000 square feet of covered growing area for our potted plants. We export aproximately 70,000-80,000 potted orchid plants annually. We currently have 7 full time employees working with us.
History
We had the good fortune of settling in the small Hawaiian village community area of Kalapana in 1981 which was home to 2 stores, 2 churches, 3 surf breaks and the world famous black sand beach of Kaimu nestled amongst one of the last true Hawaiian communities in the state. Out of desire to remain living in this quiet Hawaiian country atmosphere we looked toward Orchid farming as a means to support ourselves. However, Madame Pele, the Goddess of Kilauea Volcano also chose to live in this beautiful place and began cascading lava into the upper slopes of Kalapana in 1983. By August of 1990 the entire area, beaches and community was covered by lava from an eruption that has been non stop for now over 26 years. Our original farm remains in the coastal area of Kalapana at 200' in elevation is perfect for growing more heat tolerant genus such as Dendrobiums, Cattleyas and Vandas and epidendrums, while the new farm at 900' in Kurtistown allows us to grow the intermediate to cooler growing types such as intergeneric oncidinae, miltoniopsis, zygopetalum, paphiopedalum, masdavallia, and a few others. So, we  have the benefit of two entirely different growing environments which allows us to grow a wider variety of orchid genus.
Mission
As the years have passed our focus has shifted from growing cut orchids to primarily growing certified potted orchid plants for export. Our mission is to constantly improve our orchid culture and broaden our selection of cultivars so that we may deliver superbly grown plants with enough variety to please most everyone.
Professional Organizations
Hawaii Export Nurseryman's Association